COVID-19 has shaken the foundation of our day-to-day life, its ramifications felt far and wide. At Stackpole we spent the better part of late March and early April radically adjusting our clients' spring campaigns to better suit the unprecedented environment. Homeschooling, remote working, sheltering at home –– these lifestyle changes have us asking ourselves a range of unprecedented questions:
How do you measure outdoor media impressions during this time when all are encouraged to stay home?
When will live sports return, and is there value in these radio/television stations without the games?
Will the surge in streaming services continue, or will they decline as people are forced to cut costs in a bad economy?
What resources have people turned to most in their times of need of trusted information?
There are many questions which research and media companies alike are doing their best to understand. Undoubtedly, the pandemic underscores the need for agencies and advertisers to keep their campaigns flexible and responsive.
Below you'll find just a few of the many media shifts we are watching with interest.
Daypart Shake-up
With people staying home, the traditionally low-ranked daytime dayparts are seeing historically high viewership, both on streaming and traditional media platforms.
"Across Nielsen's 56 largest metered markets, streaming increases have been persistent across all hours of the day. However, the most significant gains have been in the early afternoon hours. Historically, few adults would be home during these hours, but with the lifestyle changes created by stay-at-home orders, we saw more than 50% increases in streaming from 1pm-4pm across markets between the weeks of March 2, 2020 and March 23, 2020. Further, these hours are up over 100% from the same week a year ago." (Nielsen)
Streaming Growth
Streaming platforms have seen universal growth since mid-March.
"Year-over-year, streaming among people 25-54 has increased almost 100%. In addition to searching for new video entertainment content, other categories such as fitness and wellness, gaming live streams and cooking are all likely to be contributing to connected device streaming gains." (Nielsen)
The volume of consumption is not all good news as it does threaten to upend the business models and content strategies for many providers. For example, fledgling streaming platform Quibi (launched by Jeffrey Katzenberg in early April) has struggled greatly to secure new subscribers as its Quick Bites content was designed for consumers on the go. Predictions suggest that Netflix is best positioned to win the streaming wars based on their expansive catalogue of content. Netflix added a record 15.8 million subscribers in Q1 of 2020, more than doubling its initial estimates of 7 million subscribers, per company statements.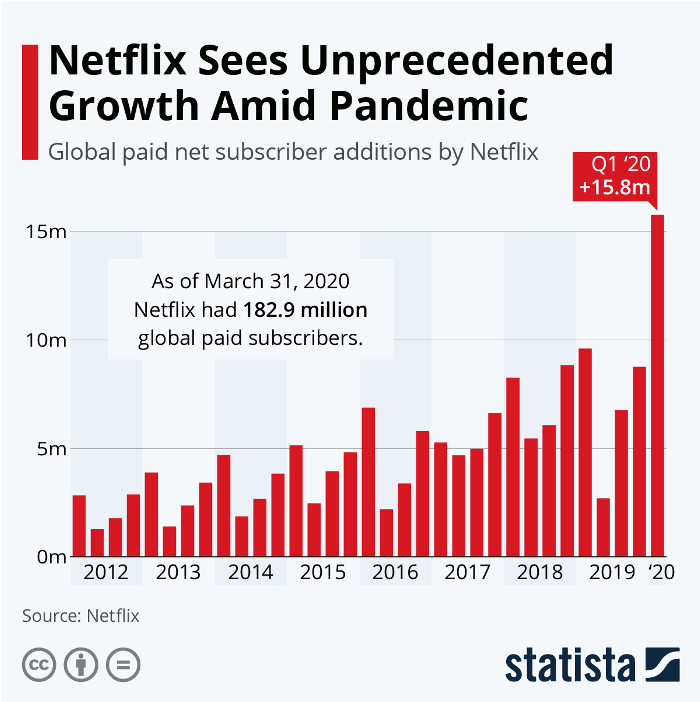 Apps as a means of "virtual" community
I'm sure we have all done it at some point during the stay-at-home phase –– a FaceTime call with a family member or a Zoom cocktail hour with friends. Though not the same as being in person, so many of us found a bright spot using technology as a means to communicate with loved ones. For example, I had never heard of Houseparty prior to March 1st, yet by the end of the month my house was buzzing with Houseparties. "The social network saw downloads balloon more than 7X in mid-March, according to a new report from App Annie." The increased usage and downloads is also translating to more consumer spend via apps. In Q1 2020 consumers spent over $23.4B through the app stores, the largest quarter ever in terms of consumer spend reports App Annie. (Forbes). With far less likely travel happening this summer, it is likely that this form of togetherness is here for the long run.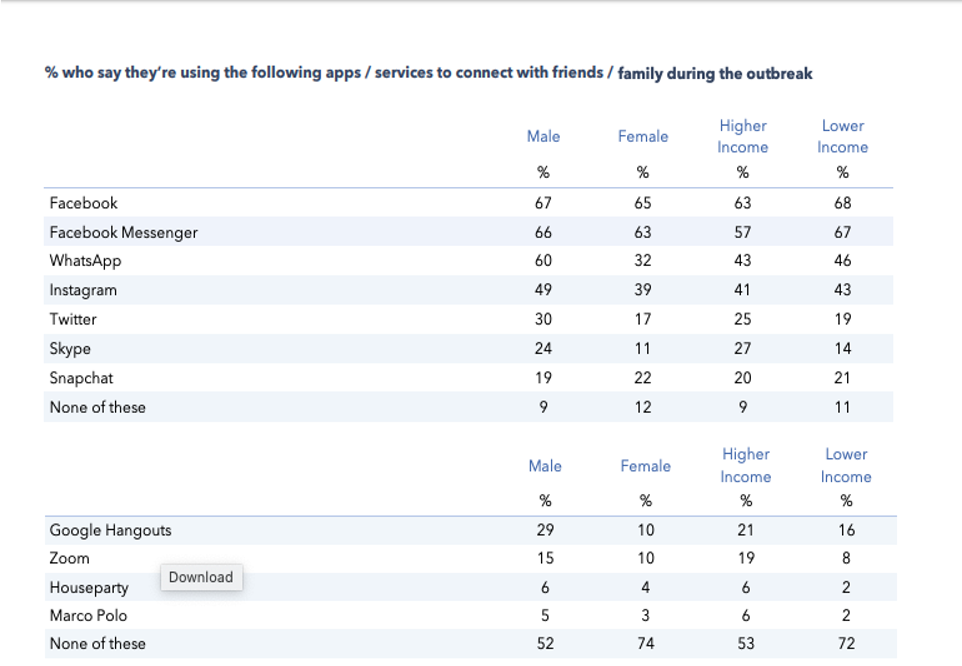 To discuss these and other media implications following COVID-19,  you can connect with our team by sending us an email through the contact box below.
Stackpole & Partners is a privately-owned integrated marketing and branding agency servicing a wide variety of businesses for the past 25 years. We combine strategic discipline, creative talent, and actionable initiatives to build leading brands that drive growth for our customers. Our expertise