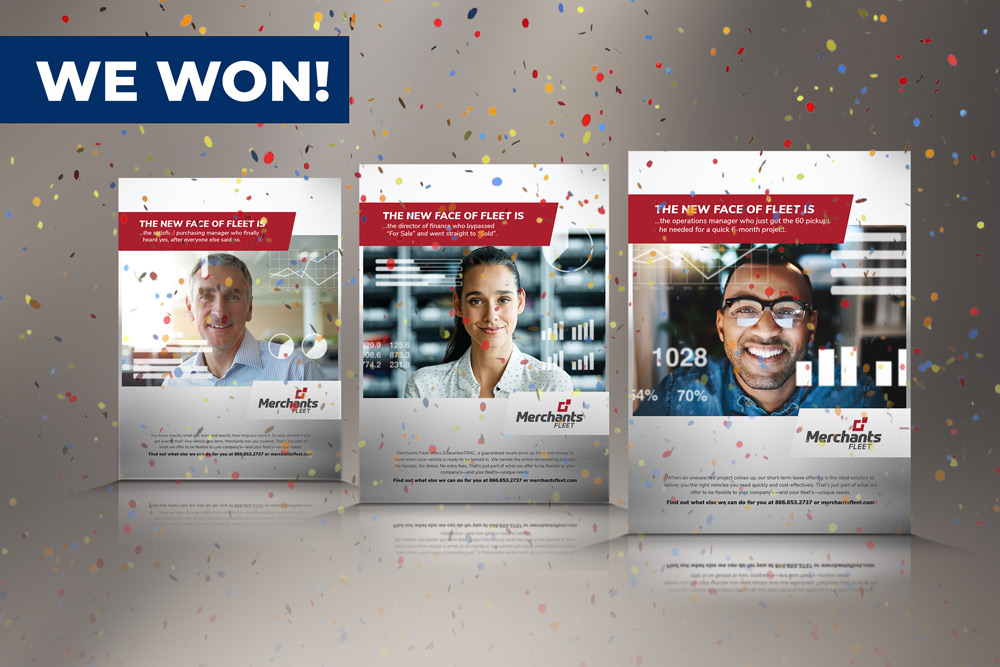 We're delighted and honored to share the news of our industry recognition in the 17th annual Service Industry Advertising Awards (SIAA), which were announced at the end of January.
First established in 2003, the SIA Awards received over 1600 entries in 2019 from more than 500 advertising agencies and 700 institutions. SIAA stands out as the only advertising awards to specifically recognize advertising achievements in the service industry.
We're especially pleased that the SIAA judges recognized the work we produced for our clients across such a broad spectrum of media – TV, radio, magazine, newspaper and integrated marketing platforms.
For the new brand launch we developed for our valued longtime client, Merchant's Fleet, Stackpole received two Gold Awards for Magazine Advertising. This recognition came as the result of a three-month print campaign, which began with a teaser ad for the reveal of Merchant's new logo, and followed with subsequent advertisements that built upon the previous ones to reveal more detail about the company and its innovative 'outside the box' thinking.
One of the key components of the campaign was the creation of a custom, cover wrap, faux cover for Automotive Fleet magazine, which introduced the 20,000 readers of the magazine to "Meet the New Face of Fleet." This was bolstered in succeeding months by stylized four-color ads demonstrating Merchant Fleet's position as an industry disruptor.
Demonstrating our ability to find a unique brand voice for our many bank clients, our work was also recognized with three Gold Awards for our TV advertising series, "This Is Where I Bank" for Cape Ann Savings, Newspaper Advertising for our "Upgrade to Local" series for East Cambridge Savings, and Radio Advertising for our branding series for Taylor Bank.
We were also awarded Silver Awards for our work with Taylor Bank on an Integrated Marketing Campaign for Customer Appreciation and Webster Five for Radio Advertising Series, "This Is Your Bank."
SIAA judges recognized the quality and scope of Stackpole's work with Bronze Awards for TV Advertising for Taylor Bank and Radio Advertising for Norwood Bank for our "Beyond Business Banking" series.
As we work with our clients in local markets from Burlington, Vermont to Bangor, Maine, from the Delmarva Peninsula to Eastern Canada and across the globe to Honolulu, Hawaii, we team with them to unearth their unique local market sensibilities.
It's our privilege to receive these SIA Awards – and to recognize the endlessly creative collaboration between our fantastic clients and the dedicated, hardworking and talented team here at Stackpole.
Stackpole & Partners is a privately-owned integrated marketing and branding agency servicing a wide variety of businesses for the past 25 years. We combine strategic discipline, creative talent, and actionable initiatives to build leading brands that drive growth for our customers. Our expertise