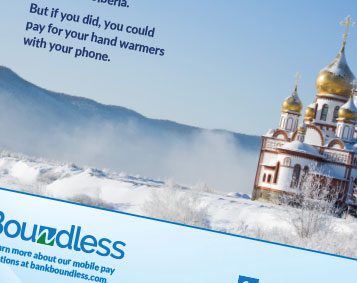 The idea that Boundless Banking at Norwood Bank will continually evolve to meet customers' needs is behind an unforgettable new ad campaign that highlights exotic, far-away places most of us will likely never visit. For instance, one ad emphasizing Norwood's mobile banking app features striking imagery of Africa with copy that reads: "You may never find yourself in Tanzania. But if you did, you could deposit your check while on Safari."
A number of ads appear across multiple channels (outdoor, print, radio, broadcast and digital), all with similar copy and striking imagery that take the viewer on a virtual trip around the world. The ads were supported by an attention-getting, TV spot, which also appeared as a motion graphics video on social media and the bank's website.
Across the board, the campaign results were impressive, and you can read about them here.