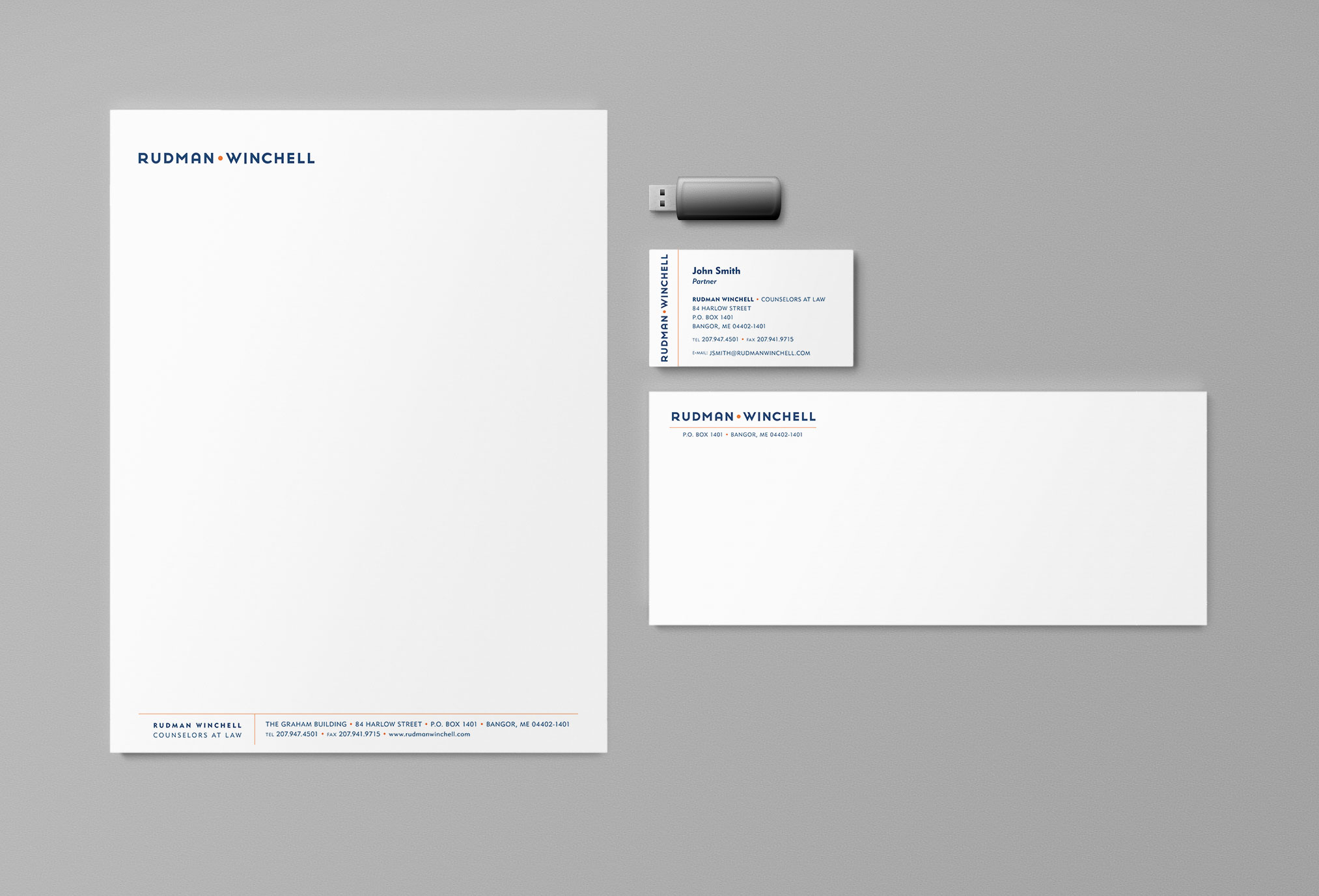 The New England Chapter of the Legal Marketing Association (LMA) recently announced the winners of their annual "Your Honor Awards" and Stackpole & Partners took top honors in the corporate identity category. The awards recognize excellence in marketing within the legal profession and Stackpole was selected for an identity they created for law firm client Rudman Winchell of Bangor, ME.
Stackpole conducted a series of brand audits and interviews with the firm in order to develop a new brand architecture and identity system resulting in a distinctive look without straying too far from the firm's established heritage. The LMA panel of judges said they were impressed by the "very clean look" Stackpole created in order to differentiate the nearly 100-year-old firm from its competitors. A contemporary font and color palette were used to better reflect Rudman Winchell's culture and consultative approach and the new identity helps to more accurately convey the size and breadth of service the firm offers. New signage on the firm's landmark building further reinforces their presence across the city skyline.
This isn't the first time Stackpole's work has been cited by the organization. In 2006, they claimed the top spot for an advertising campaign developed for client Nutter, McKlennan and Fish, LLC of Boston.
About Stackpole & Partners
Located in downtown Newburyport, Stackpole & Partners is a full-service strategic marketing communications firm serving clients throughout the United States. Stackpole has provided its services to national clients such as LexisNexis, Wolters Kluwer and Holland & Knight, as well as to New England-based businesses including Watertown Savings Bank, Perseus Athletics, Fiduciary Trust, Merchants Leasing and Nutter McClennen & Fish.