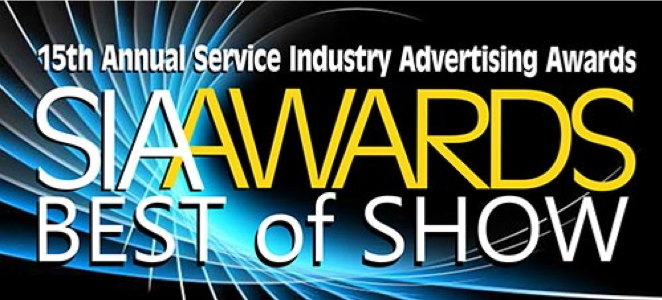 Best of Show. Six Golds. One Silver. One Bronze. Three Merits.
Stackpole is pleased to share the news of its outstanding performance at this year's Service Industry Advertising (SIA) Awards competition. Since 2003, the SIA Awards have been recognizing advertising excellence in the service industry and this year more than 525 agencies representing over 730 institutions participated. Over 1,600 entries were judged for execution, creativity, quality, consumer appeal and overall breakthrough advertising content.
"I can't tell you how exciting it is to be rewarded like this for the great work our team has done over the last year," said agency president, Pete Stackpole. "Having clients who understand and value our strategic approach and who consistently encourage envelope-pushing creative is a big reason for our success at the show."
Norwood Bank's "Boundless Banking" campaign was honored as Best of Show in the overall Integrated Marketing Campaign category, selected by a panel of judges as one of just six "Best of Show" Winners, from a pool of 1,600 Entries. As a local community bank, Norwood Bank proudly shares the "Best of Show" stage with National brands like the Washington Post, Ronald McDonald House and Roto-Rooter. Two more Golds for Integrated Marketing Campaign and Outdoor Advertising and an Award of Merit for Television Advertising Single Spot were received.
A ground-breaking campaign created for client Goodsill, a Hawai'i-based law firm, resulted in three Golds in the Logo Design, Magazine Advertising Series and Total Advertising Campaign categories. "Hawai'i Life. Hawai'i Law,"as the campaign is aptly themed, also garnered a Silver for Integrated Marketing Campaign and a Bronze in the Website category.
For the longtime client, Lowell Five Bank, a campaign branding the innovative financial institution as "The Relationship Bank" won a Gold for Total Advertising Campaign and two Awards of Merit in the Integrated Marketing Campaign and Outdoor Advertising categories.
"I'd like to thank our clients, our team at Stackpole and the SIA Award judges for making this possible," continued Stackpole. "It's an honor to be in the company of so many great agencies, and I'd like to congratulate the other recipients for work well done."