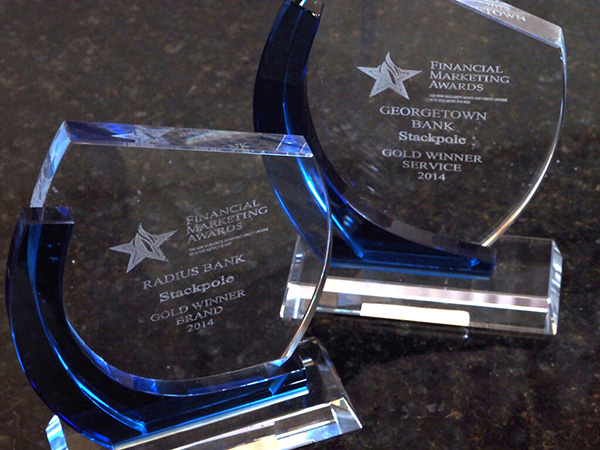 Stackpole is honored to have won 2 Gold and 1 Bronze Financial Marketing Awards, handed out at the Annual Awards Event held on September 23rd at Mohegan Sun Casino. Stackpole accepted the awards for work on behalf of Radius Bank, Cape Ann Savings Bank and Georgetown Bank. Stackpole FMA awards included:
Gold: Radius Bank – Branding
Gold: Georgtown Bank– Service
Bronze: Cape Ann Savings Bank – Branding
"It's always nice to receive affirmation of our great work from other marketing communications professionals— those who served on the panel of judges. These awards are a huge nod to the talented team at Stackpole, and to the tremendous support of our clients " said agency President & Founder Pete Stackpole.
The New England Financial Marketing Awards began in 2013 and are open to all banks, credit unions and mortgage providers in Massachusetts, Connecticut, Vermont, Maine, Rhode Island and New Hampshire The panel of judges is comprised of bank marketing professionals from outside of New England to avoid local bias, and work is judged for it's ability to deliver on key objectives, strategy, creative execution and results. About Stackpole Located in downtown Newburyport, Stackpole is a full-service strategic marketing communications firm servicing clients throughout the United States. Stackpole has provided its services to national clients such as LexisNexis, Wolters Kluwer, Merchants Fleet Management, and Holland & Knight, as well as to New England businesses including Radius Bank, Fiduciary Trust Company, Johnson, O'Connor, Feron & Carucci, Watertown Savings Bank, RudmanWinchell and Nutter McClennen & Fish.