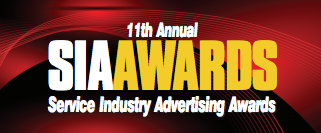 February 11, 2015 (Newburyport, Mass.) – Stackpole & Partners, a full-service marketing communications agency, is honored to have won 10 Service Industry Advertising Awards (SIAA) for work on behalf of Radius Bank, Merchants Fleet Management and Georgetown Bank.  Winners were announced February 2 after a national panel of judges reviewed more than 1,500 submissions.
Stackpole & Partners SIAA awards included Gold Medals for:
Radius Bank – Electronic Advertising
Radius Bank – Website
Radius Bank – Logo/Letterhead
Merchants Fleet Management – Magazine Series
Merchants Fleet Management – Mobile App
The agency received additional awards for Georgetown Bank's integrated marketing campaign and several other Radius Bank digital media campaigns.
"Every one of our SIAA submissions for client work won an award which is a huge credit to our team and our clients," said agency President & Founder Pete Stackpole.
The SIAA Awards began in 2003 to recognize advertising excellence in the service industry.  SIAA submissions are judged on execution, creativity, quality, consumer appeal and overall breakthrough advertising content. This year, more than 400 agencies and 700 institutions participated.
About Stackpole & Partners 
Located in downtown Newburyport, Stackpole is a full-service strategic marketing communications firm servicing clients throughout the United States.  Stackpole has provided its services to national clients such as LexisNexis, Wolters Kluwer, Merchants Fleet Management, and Holland & Knight, as well as to New England businesses including Radius Bank, Watertown Savings Bank, Georgetown Bank and Nutter McClennen & Fish.