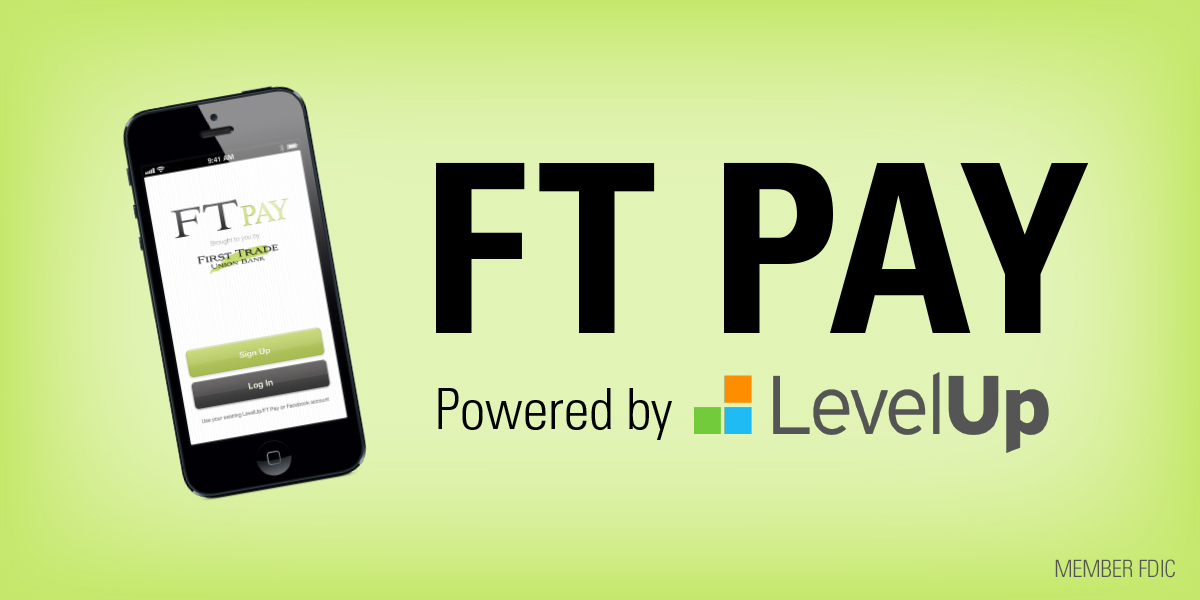 The app is powered by mobile payments network LevelUp and can be used at the thousands of LevelUp merchants nationwide. The new FT Pay app is now available for free download from the iTunes App Store and Google Play.
FT Pay combines the best of LevelUp's award-winning payment and loyalty platform with First Trade's existing mobile banking applications, giving FT Pay users the ability to pay with their phones at any LevelUp merchant location while unlocking LevelUp credit and exclusive First Trade offers in the process.  First Trade will match the savings from merchant discounts and deposit up to $25 as a new account bonus directly into new customers' FT Checking accounts, while existing bank clients can increase their savings by sweeping merchant credits into their savings accounts.
"FT Pay breaks new ground in banking by tying First Trade even more closely to consumers and local businesses: consumers earn additional rewards, and merchants have a new channel for attracting and keeping customers," said Seth Priebatsch, chief ninja, LevelUp. "First Trade understands banks need to get creative with technology as their customers' lifestyles get more and more mobile. By being the first bank to offer a custom-branded mobile payment app powered by LevelUp, First Trade is not just keeping pace with banking tech innovation, they're leading the way."
The new mobile payment app integrates with the First Trade Union Bank debit card, and any non-First Trade debit or credit card.  The exclusive FT Pay "Vault" reward feature will continue to benefit businesses in the LevelUp network as First Trade will create ongoing, exclusive offers to drive more loyal customer traffic.
"With FT Pay added to our leading-edge services, First Trade has true end-to-end mobile banking, from deposits, bill payment and funds transfers, all the way through to payment at the register, from your phone," said Michael Butler, president, and CEO, First Trade Union Bank.  "We are excited about our partnership with LevelUp, to build off of its innovative mobile payments platform and extensive merchant network, and launch this first-of-its kind mobile payment app. FT Pay delivers rewards consistent with other First Trade account programs, like ATM rebates and no-fee checking, so our customers receive an exceptional experience that adds value and convenience to their lives."
This latest technology roll out from First Trade also marks the kick-off the market-facing promotional campaign. Stackpole worked closely with First Trade and its technology partner, LevelUp, to develop a fully integrated program that leverages a high impact mix of digital and non-digital channels, trade and consumer PR, and events that target the greater Boston and New York markets.